If you haven't caught on yet, Fangraphs is awesome.  And well, they've done it again.  They took a great idea, and executed it beautifully.
This time of year, everyone puts out some sort of predictions/rankings/etc, and to be honest, I've gotten tired of them.  But of course, Fangraphs puts a different spin on them and made it interesting again.
How'd they do it?  First they broke it down by position and ranked every team, 1 through 30.  Second, they considered all players currently slated for playing time at the position, not just one guy.  This allows platoon situations, or rookies who may get more playing time later in the year, to factor into the equation.  Dave Cameron gives a more detailed explanation in the intro, but they basically used a combination of ZIPS projections and fan evaluations of defense to come up with an aggregate WAR for the position.  Numbers were typically ballparked and I think "ties" were broken by the evaluator.  What resulted was a ranking for each position that was built on objective analysis, but also maintained the human element.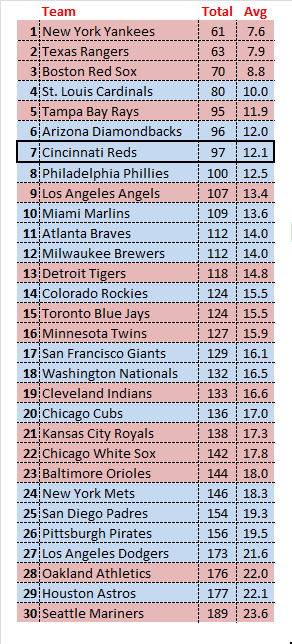 Intrigued by the results, I decided to collect the rankings for all offensive positions and create an aggregate number by adding each team's rank for each position.  I initially included offense only, as combining hitting and pitching often gets messy (plus there were only two pitching categories and I would have had to do some sort of weighting).  Results are to the right.
Not surprisingly, the American League dominates the top of the rankings, with New York, Texas and Boston nabbing the top three spots.  The Phillies, perhaps the NL's best bet in recent years to compete with the offenses of the AL on paper, clock in at number eight, just behind your Cincinnati Reds.  The Phillies are getting older, and Rollins, Utley and Howard are developing extensive injury histories.
The Reds show well here thanks to three top 10 finishes (I'm sure you can guess who they are – though full results are below) including the number 1 first basemen(!), with Votto edging out Pujols thanks to the latter's likely, though limited, appearances at DH this season.
As you can see, those damn Cardinals find themselves ahead of the rest of the National League.  Somehow they just continue to reload, thanks, in part, to a timely Beltran signing (sad face).  The Cards have few holes, if any, claiming a top 5 ranking at two positions (Molina, Holiday) and a top 10 ranking in another three (Berkman, Furcal, Beltran).  Their biggest weakness is in center, where Jon Jay still ranks two spots ahead of Stubbs.  I think it's tough to have anyone other than the Cardinals as division favorites right now.  Even with the Carpenter situation, we saw how they dealt with Wainwright's injury last year, and they are pretty strong one through five.  Additionally, Fangraphs is giving 75 innings to prospect Shelby Miller.  The guy just turned 21 and has ranked among the top 10 or 20 prospects in baseball for a couple years now.
It's interesting seeing how all the teams stack up.  I don't think there are a whole lot of surprises here, but I'll let you decide for yourself.  You should browse the entire series, as there is tons of info that you know is going to be as reliable as anything else out there.  I'll also include my graphic that includes all rankings at all positions, with the Reds spots highlighted, of course.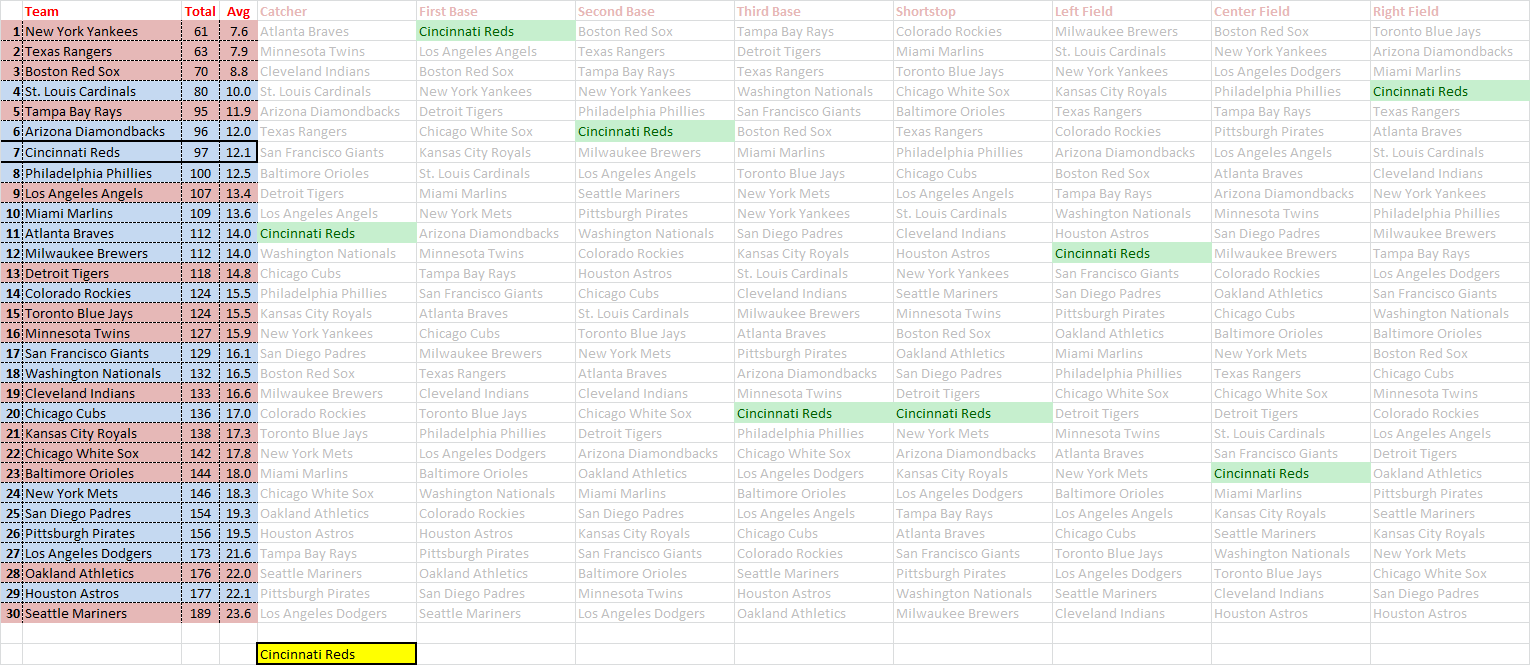 One thing we've yet to address is pitching.  I figured it didn't require this sort of effort since it's basically two numbers (starters and relievers), but it is worth considering.
Obviously there's high hopes for the Reds' staff this summer.  The addition of Mat Latos, the continued growth of Cueto, Leake and Bailey, the bounce back of Arroyo, and the eventual inclusion of Chapman, all leave room for optimism.
Unfortunately, ZIPS disagrees.  The Reds land at number 23 in the starting pitching rankings, and even Dave Cameron admits that he was "shocked".  As he puts it, "ZIPS is just not a big fan of Bailey or Leake, and top top it off, it hates Bronson Arroyo with the passion of a 1,000 burning souls."  Maybe not surprising given his spring performance thus far.  Even Latos doesn't stack up against other teams' aces.  Cameron hypothesizes that the Reds will outperform this projection.  (Another surprise was seeing the Diamondbacks at number 21.  You just never know with these projections, and pitching is especially difficult to forecast.)  Thankfully, our revamped bullpen comes through in the clutch, checking in at number 3.
In the end it's just another set of projections, and they can be wrong.  Wait, check that, they will be wrong, in one way or another.  Which again, is what makes it all worth watching.  It looks like the Reds come out pretty decently, which may not be the enthusiastic endorsement fans are hoping for, but it certainly could be worse.  This is an exciting team with a lot of upside, well positioned for a run at the Central.