In case you hadn't heard, 15-year-veteran Mike Cameron retired on Sunday.  I'm not going to go into detail about his career, but if I may give an opinion, I'd say it was a quite successful one.  Cameron was often cited as one of the more underrated players in baseball (somewhat of contradiction, I know) especially during the later stages of his playing career.  This was likely due to his unimpressive batting averages (a stat that is historically overvalued) and the value that he added in centerfield (defense is difficult to measure).
As a Reds fan, I always had a liking for Mike Cameron.  Looking back, I had sort of forgotten that he only spent 1 year in a Reds uniform, but I remembered him as a productive player while he was in Cincinnati.  Not to mention the fact that he was here in 1999, the year any Reds fan will remember as the time we won 96 games and lost a 1 game playoff to Al Leiter for the wild card spot.  Despite the lousy ending, it was the last time the Reds were a productive baseball team for quite some time.
Something I also hadn't remembered is how the Reds acquired Mike Cameron… in a trade with the White Sox for Paul Konerko.  No Reds fan enjoys reading that sentence.  As I recall, the Reds had 2 promising young first basemen at the time, and picked one.  Sean Casey was a good player for a while, and of course became known as the friendliest player in baseball, but the Reds clearly passed on the superior player.  Paul Konerko has gone on to anchor the middle of the White Sox lineup for 13 years and counting (not to mention win a World Series).
But of course, the Reds got a very good player in return.  In fact, if you go by Fangraphs WAR (which some say puts a bit too much emphasis on defense) Cameron has a sizable, and likely insurmountable, lead over Konerko.
Problem is, after the Reds successful 1999 campaign they of course included Cameron in a somewhat notable trade with the Seattle Mariners for Ken Griffey Jr.  No Reds fan could have imagined that over the next 4 seasons, Cameron would produce 10 more wins for the Mariners than Griffey managed for the Reds.  Of course, that was due to the fact that Cameron played in 231 more games and came to the plate over 1000 more times.  Griffey's rate stats easily bettered Cameron's (.271/.374/.530 versus .256/.350/.448).
Not helping the cause was the fact that in the second season following the trade, the Mariners tied the Major League record for most wins in a season.  Cameron played a huge role on that team with 25 homeruns, 110 RBI, 31 stolen bases, an All Star appearance, and a Gold Glove.  Coincidentally, Griffey suffered his first major injury with the Reds and played in only 111 games.  It was probably around this time that people started to wonder if the Reds would have been better off keeping Mike Cameron, without even factoring in the other players surrendered (which included Brett Tomko, the Reds' latest signee… awesome).
I was probably bitter toward Mike Cameron at first, though for no logical reason.  Here we go and trade for the best player in baseball after winning 96 games, and it turns out we would have been better off with a guy who ended up playing for 8 different teams and had a lifetime batting average under .250??  Well, to put it simply… yeah sorta.  But really, at least to me, the Griffey situation became so absurd in Cincinnati, that soon it didn't matter who he displaced (it also helped that the Mariners were perennial disappointments in the playoffs for a few years).
I imagine the Reds weren't the only team who regretted losing Cameron.  He was a productive player for many years.  However, it turns out that he cost the Reds a franchise first baseman in Konerko, and then became the centerpiece in a package sent over to the Mariners in exchange for a player who came to epitomize the disappointing Reds teams of the 2000s… big and slow with a little power and no defense.  Let's take a look at these three players' WAR totals over a ten year period and note when each played for the Reds.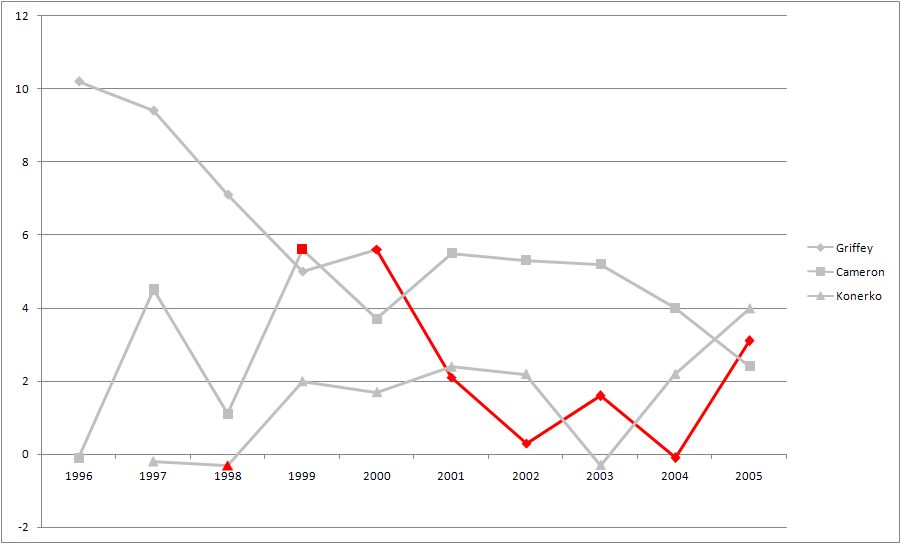 The flurry of deals worked out at first, netting the Reds the highest performing of the three in 1999 and 2000.  However that trend turned quickly as Griffey clearly performed the worst of the three over the next 5 years (and surely beyond).
So, to Mike Cameron, congrats on a great career.  But know this: I blame you for the Reds decade of futility.