Bob spent some money last night…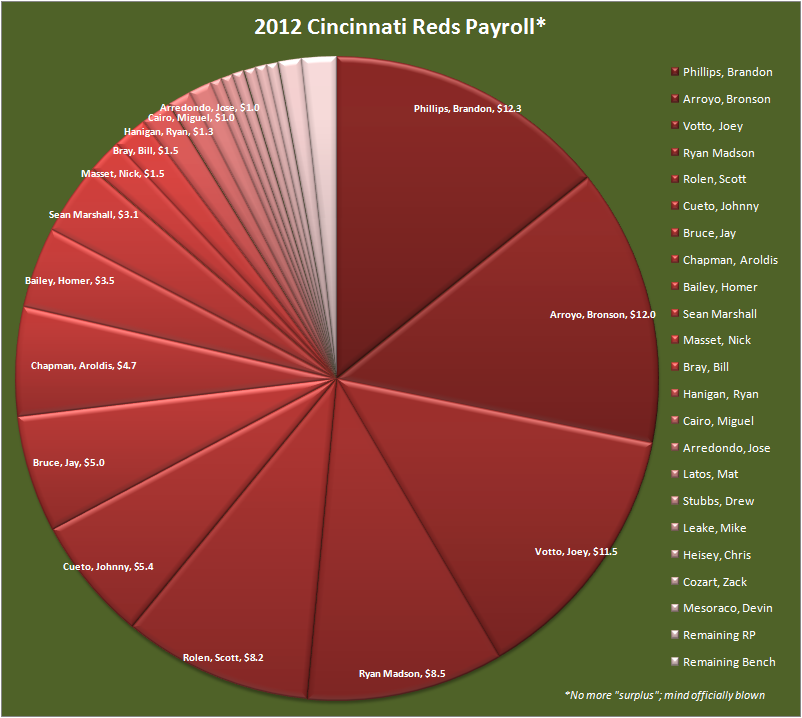 Of course, a few changes since last time:
Wood's league-minimum salary is out.
Marshall's $3.1 million makes a small dent; Madson becomes the 4th highest paid Red in 2012, nudging ahead of Scott Rolen.
Last time there was some fudging around bench players and relievers.  I don't pretend to know who will round out the Opening Day roster, but I did limit it to 25 players this time, allowing for two more relievers and three bench players not listed by name.
Surplus is gone, folks.  Can't say I'm aware of any master plan at this point.  Sounds like they still want a cheap veteran OFer.
The Reds clock in at around $86 million as of now, already a 6%-ish increase from last year.  Obviously a few million dollars in payroll doesn't really affect fans directly, but if management is expecting more seats to be filled this year, I hope we can come through.  If I was in Cincinnati I'd be looking into some sort of season ticket package as we speak.
UPDATE: So as details around the Madson signing continue to leak out, Mark Sheldon reports that the 2012 figure is only $6 million(!!!), with a mutual option for 2013 of $11 million, and a $2.5 million buyout.  That's $8.5 guaranteed, which is the number I cited above.  Not completely accurate, but you get the idea.